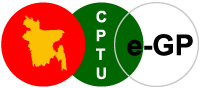 National e-Government Procurement (
e-GP
) portal of the Government of the People's Republic of Bangladesh is developed, owned and being operated by the Central Procurement Technical Unit (
CPTU
), IME Division of Ministry of Planning. The e-GP system provides an on-line platform to carry out the procurement activities by the Public Agencies – Procuring Agencies (PAs) and Procuring Entities (PEs).
e-Tendering areas:
e-Tendering will primarily be introduced on pilot basis, in the CPTU and 16 (sixteen) Procuring Entities (PEs) under 4 (four) sectorial agencies, namely:
 Bangladesh Water Development Board (BWDB),
 Local Government Engineering Department (LGED),
 Roads and Highways Department (RHD) and
 Rural Electrification Board (REB).
 291 PEs of those 4 sectorial agencies up to district level
e-Payment System:
Any participant can submit
1. Registration Fee,
2. Tender document purchase fee
3. Other services fee Collection.
After Accepting NOA from PE office
1. Receive Tender Security
2. Performance security submission
After releasing from PE office
1. Transactions for security release and forfeiture handling.